Phở hồng, a must-try dish in Bắc Hà
Nguyễn Thanh Hà
I've known about phở hồng (pink phở) in the northwestern province of Lào Cai's Bắc Hà Town for a long time but only recently got a chance to try it.
I entered a phở shop named Lý Thi on Nà Cồ Street of Bắc Hà Town packed with customers too busy enjoying their phở to notice a stranger like me coming in.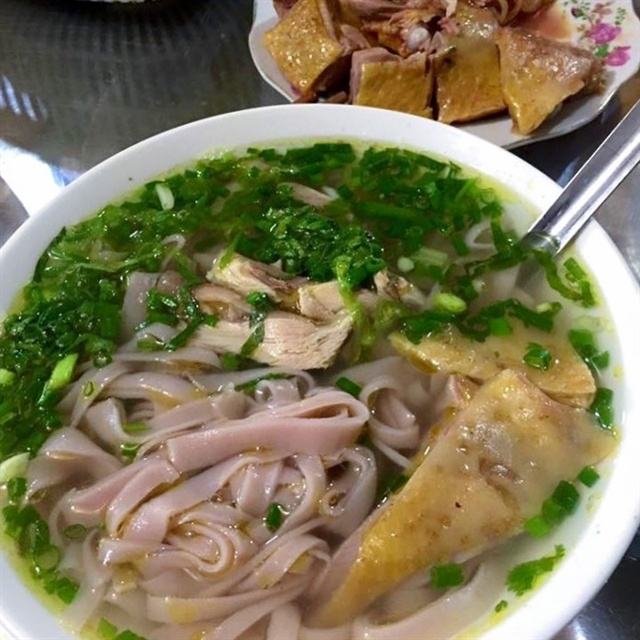 I asked the shop owner for a bowl of phở and five minutes later, a server brought me a hot bowl of phở which was so attractive due to its colours, with pink noodles, red chilli, green fresh onion, yellow chicken skin and white chicken meat.
Despite the cold outside, I felt much warmer after my first spoonfuls of the sweet broth, with the fragrant and soft chicken and noodles.
The shop seller said the chickens live free-range on hilly land so the meat is softer while the speciality pink rice, locally known as Ma Trá rice, used to make the noodles is planted on high mountains so it has a special fragrance.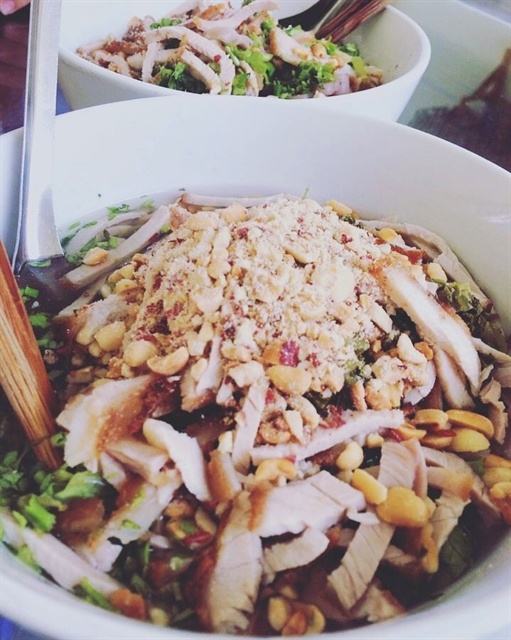 "We produce these materials by ourselves to ensure our phở quality, which was handed down from my grandmother to me," Thi said, adding that each day she uses 60-70kg of rice to produce the noodles.
She told me that apart from phở hồng, they sell phở chua (sour) and phở trộn (mixed).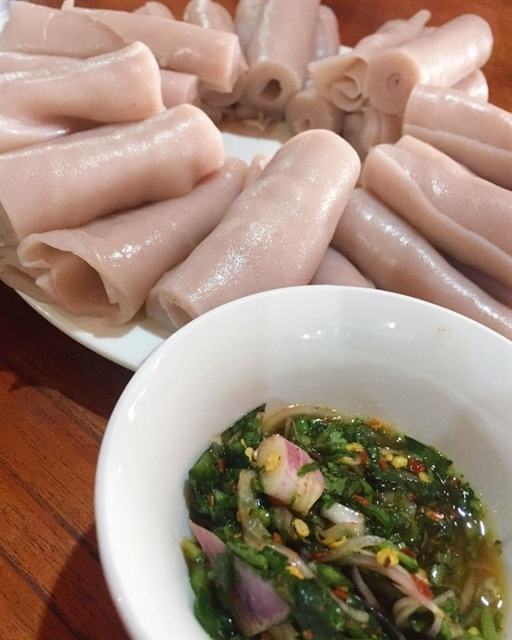 Phở chua includes hot noodles, char siu pork, fresh herbs, đậu xị (fermented soybean), roasted peanuts and sour water.
Asked about how to make sour water, Thi said she mixes mustard greens with sugar and ferments for it for three days to get the sour water.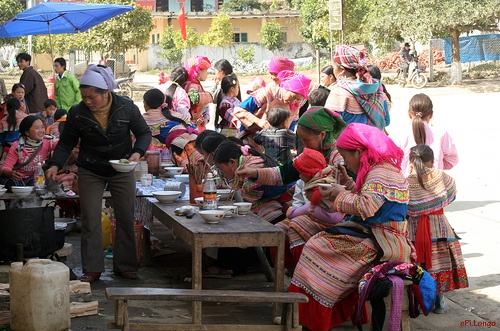 Making đậu xị is also complicated. First one has to roast the soybeans and stew them until they become soft and ferment the mixture on the kitchen's smoking shelf for several days then mix it with ingredients collected from the forest such as menghundor seeds, black cardamom, ginger, fried chilli, and chilli juice.
Many people prefer phở trộn without using sour water but with char siu and grilled pork which is cooked from Bắc Hà wild black pigs, said Thi.
She said the pigs are raised wild in the forest, so their meat is much more lean and less fatty than others.
I was lucky to enjoy all these phở specialities during my three-day trip to Bắc Hà.
Thi said thanks to tourism development, the dishes have become specialities and enjoyed by local and foreign tourists.
Last week I returned to my home in the capital. I pedalled to a luxury phở shop downtown. To my surprise, I didn't enjoy it. Had I lost my appetite? No. I realised that I missed the aromatic flavour of Bắc Hà pink phở in simpler shops.
I told myself that I would plan another trip to Bắc Hà soon to enjoy more phở hồng. — VNS
vietnamnews.vn